A land full of flavor
Nestled in the Central System of Spain, the excellent microclimate of this region, with its cold, dry winters and short, warm summers creates the perfect conditions for the drying and maturation process of our hams. In this region with an unparalleled microclimate, hundreds of artisans, children and grandchildren of artisans, work slowly and methodically each day to create the Iberico Ham from Guijuelo, "unique in the world".
Desde el siglo XV se tienen noticias de la aparición de la figura del arriero que cada vez va jugar un papel más importante en la economía de este municipio, hasta entonces ligado siempre al nombre de Salvatierra, cabecera de la comarca. Así en el Catastro de Ensenada aparecen registrados 19 arrieros en Guijuelo, mientras que en la cabecera del Concejo no aparece ninguno. Sin embargo, en el mencionado Catastro de Guijuelo continua siendo un pueblo agrícola-ganadero. Hasta la Guerra de la Independencia estos arrieros (negociantes) comerciaban con granos; posteriormente se dedicaron a la recogida de jamones en la zona de Sayago y Benavente.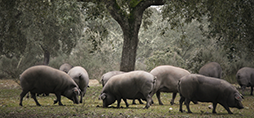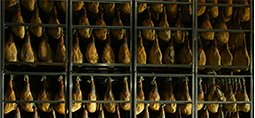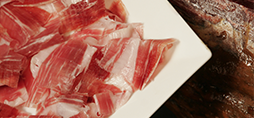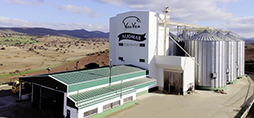 In order to consolidate the delicatessen industry, the Municipal Slaughterhouse was opened in the year 1935, during which time 30,000 pigs were registered as having been slaughtered. The slaughterhouse streamlines the slaughtering process, making it more profitable.
After the end of the Spanish Civil War, the industry in Guijuelo, as well as in the rest of the country, was hit by a significant crisis, but was able to recover. By the 1960s, Guijuelo and its cold cuts industry reach a considerable level of development, which continues today, placing the small village on one of the top rungs of the ladder known as the world of Iberico pork.