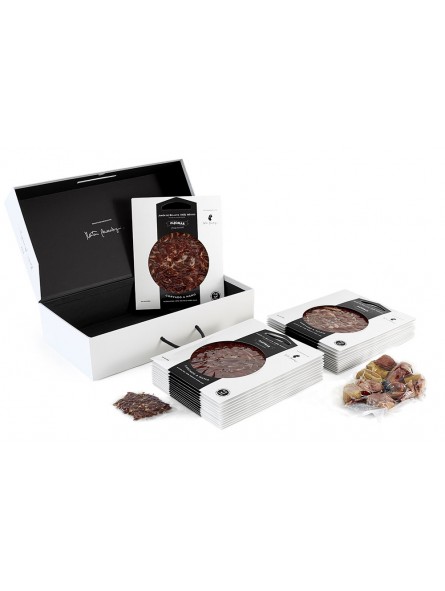  
ESTUCHE PLATO JAMÓN DE BELLOTA 100% IBÉRICO - CORTE A CUCHILLO
Data sheet
Sin Gluten

Sin Gluten

Sin Lactosa

Sin Lactosa
Horacio T. published the 28/01/2021 following an order made on 24/10/2020
Soy un habitual consumidor de los jamones de la marca Joselito y de 5J y conocí el jamón Aljomar comiendolo en el restaurante da Bruno de Marbella y me encantó tras lo cual decidí comprarlo directamente para mi casa y estoy encantado con el producto ya que la presentación del producto es espectacular, también el envasado y aunque no soy un experto y bajo mi modesta opinión el sabor del BELLOTA 100% IBERICO d Aljomar a día de hoy supera muy mucho a las del mejor JOSELITO y a 5J que pensaba que eran insuperables.Por último añadir que con el descuento-promocion que ofrecen me parece muy correcto la relación calidad-precio del producto por lo que pronto repetiré la compra sin dudarlo.
Comment from Aljomar the 11/02/2021
Estimado Horacio, nos sentimos muy halagados al leer su opinión acerca de nuestros productos. Detrás de cada pieza hay mucho trabajo de un gran equipo humano y mucha dedicación, nos alegramos que todo esto se traduzca en un cliente satisfecho. Seguimos trabajando duro!
Javier Francisco D. published the 28/01/2021 following an order made on 11/12/2020
Calidad inmejorable
Comment from Aljomar the 25/02/2021
Gracias Javier!
Sergio M. published the 27/01/2021 following an order made on 26/10/2020
Paquete magnífico para amantes del buen jamón
Comment from Aljomar the 19/02/2021
Hola Sergio! Cierto, nosotros también creemos que la presentación debe de estar a la altura de la calidad y sabor de nuestros productos! Gracias por tu valoración!