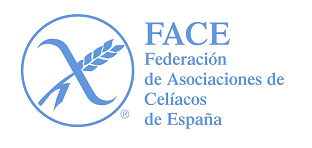 Official Face List
List of F.A.C.E. foods (certified gluten-free products)
The Quality Control department at Jamones Aljomar continues its work and success in achieving Iberico pork products that are healthier and appropriate for all consumers. From the end of 2010 to the present, F.A.C.E (the Spanish Coeliac Society) has listed a total of 19 products from the Aljomar brand in its 'official F.A.C.E list' of coeliac-friendly foods.
This list is updated annually and distributed among all members, the agri-food industry (subscribed to the list) and the HORECA (Hotel, Restaurant and Catering) sector (under agreement with F.A.C.E.). Persons intolerant to gluten use this publication as a form of direct communication in which products free from this substance are itemized and certified by the corresponding sector association.
The list includes 19 products, in different forms (whole cuts or sliced cuts) of chorizo, salchichón, loin, longaniza and the famous 'Guijuelitos'. The list does not include Iberico hams nor pork shoulders in any of their formats, since these foods are, by their nature, already free of those substances.
Persons affected by coeliac disease have a permanent intolerance to gluten.
Gluten is a protein found in cereals such as wheat, oat, barley, malt, spelt, kamut and triticale. Persons affected by coeliac disease must adhere to a gluten-free diet for their lifetime and cannot consume any of these cereals nor their by-products. Meat products, by nature, do not contain gluten. However, when additives, spices, etc. are added during the manufacturing process, gluten appears in the list of ingredients. All of the Aljomar products selected for the list have undergone laboratory studies to ensure the lack of gluten in any ingredients and/or additives used in the products.