Iberico Pork Cheeks with mozzarella gnocchi and Swiss chard chlorophyll stew
Published : 10/06/2021 12:24:39
Categories : Recipe Aljomar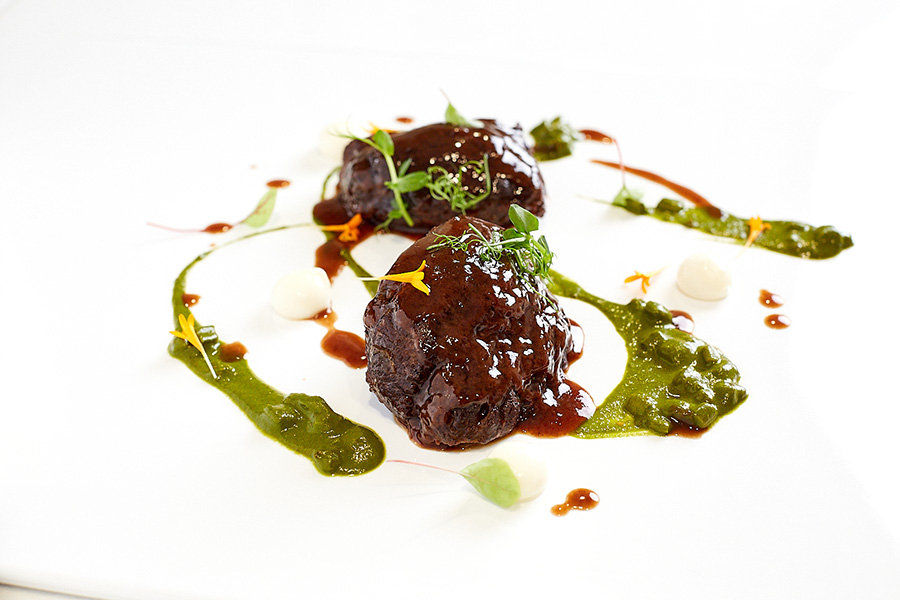 Ingredients
Aljomar Iberico Pork Cheeks
For the chard stem stew
For the diced chard stems
350 g Swiss chard stems, diced
For the blended chard stems
250 g clean Swiss chard leaves
250 g baby spinach leaves
50 g olive oil
1 garlic clove, sliced
Garnish for chard stem stew:
1/4 tsp chopped garlic
2 g ham, cut into small cubes
30 g chickpea broth reduction
1 T blended Swiss chard leaves
For the mozzarella cheese:
Mont D'or cheese foam
500 g heavy cream
150 g Mont D'or cheese
1.5 g calcium
2 g Xanthan
For the alginate bath:
For the parmesan whey
1000 g water
600 g grated parmesan
Pork juice
6 kg fresh pork bones
2 leeks
2 carrots
2 onions
1 stalk celery
1 bouquet garni
200 g flower honey
10 litres bottled water
Method
Season the pork cheeks with salt. Brown the pork cheeks in a heated skilled with oil. Place on a cooling rack or in a blast chiller. Once they are cool, place in a vacuum pouch with the rinsed vegetables, pepper and the cold pork juice. Vacuum seal the bag and cook in water for 24 hours at a temperature of 64ºC. When finished, remove and place again in blast chiller. Keep refrigerated.
Cut the Swiss chard, separating the leaf from the stems. Cut the stems into ½ cm cubes and cook in plenty of boiling water. It is important to cook the chard stems just enough, so that they're cooked but still have a firm texture. Immerse in an ice bath and set aside. Blanche the spinach and Swiss chard in plenty of boiling water for 1 minute, drain and press lightly. Mix in blender with the garlic infused oil, strained.
Pass through fine mesh strainer, set aside and keep cool. When you are ready for the next step, cut ¼ tsp garlic and 3 g Aljomar ham shoulder. Saute and add 15 g chard stems and 30 g of reduced chickpea broth.
Season to taste and add 1 heaping tablespoon blended chard stems. First thing in the morning, boil the cream and remove from heat. Add the Mont D'or cheese foam and stir to combine. Pass through a fine mesh strainer. Mix in blender, add calcium and xanthan. Refrigerate for 4 hours. Place in a large whipping siphon with two cartridges and spray to create spheres about the size of a medium serving spoon over an alginate bath. Keep in the alginate bath for 5 seconds then remove ad rinse in water.
Keep in the parmesan whey until ready to serve. Just before serving, heat while still in the parmesan whey. Mix both ingredients in a blender on high for about 4 minutes. Boil the water, stir to melt parmesan and infuse 15 minutes. Strain through a cheese cloth.
For the pork juice
Brown fresh pork bones in the oven at 200ºC, until well-browned but not burnt, then transfer to a saucepan with the vegetables, bouquet garni, and water. Deglaze the pan with the bones with honey and some water. Add to saucepan. Cook on low heat 4 hours until it boils, skimming the foam regularly. Strain and add the juice from the pork, adding salt to taste. Set aside.
Plating
Heat the pork cheeks in water at a temperature of 64ºC. Set aside. Spoon the chlorophyll sauce on the plate, add mozzarella gnocchis. In the centre of the plate spoon the pork juice and place the pork cheeks. Garnish with flowers
Share this content
Add a comment