Salad with fresh croutons and Aljomar Iberico Chorizo
Published : 06/03/2021 13:34:29
Categories : Recipe Aljomar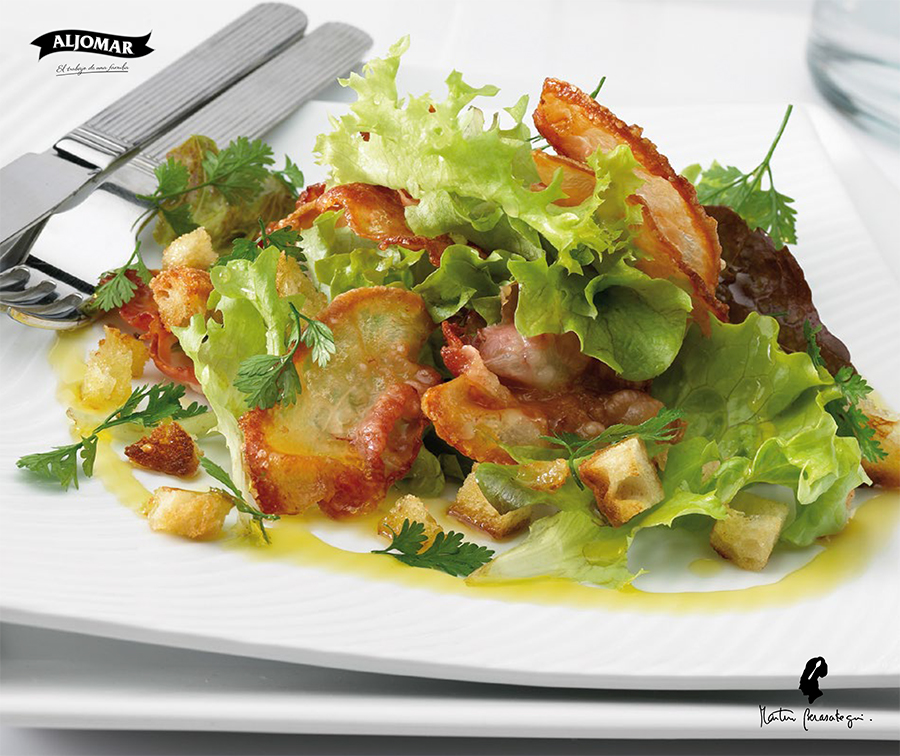 Ingredients
1 head of lettuce
6 thin slices of

Aljomar Iberico chorizo

2 slices of day-old sandwich bread
1 clove garlic, cut in half
3 tablespoons EVOO
Splash of cider vinegar
salt
Method
Let's start with the lettuce. Any raw vegetable we eat should be carefully washed. Remove and discard the outside leaves.
The remaining leaves should be removed and placed in a large bowl filled with cold wáter and a few drops of bleach or vinegar. Bleach and vinegar help eliminate the bacteria and other impurities hidden between the lettuce leaves.
Rub the inside of the salad bowl with the cut side of the garlic clove. This will give the salad a nice hint of garlic. Discard the cloves and place lettuce in salad bowl.
Cut the slices of chorizo into two or three smaller strips.
Use a serrated knife to cut the bread into small cubes. In a clean frying pan with no oil, toss the chorizo on high heatuntil they are brown and toasty. Drain the excess oil, leaving a thin coat in the pan. Use that oil to fry the cubes of bread. Brown on all sides. Add a few drops of olive oil. Be careful not to burn the croutons.
Set aside and let cool. Add a pinch of salt, the olive oil and vinegar to the salad. Toss well and add the chorizo and croutons. Serve immediately.
Share this content
Add a comment