Aljomar Iberico pork ribs with parsley and lemon sauce
Published : 07/15/2021 12:59:29
Categories : Recipe Aljomar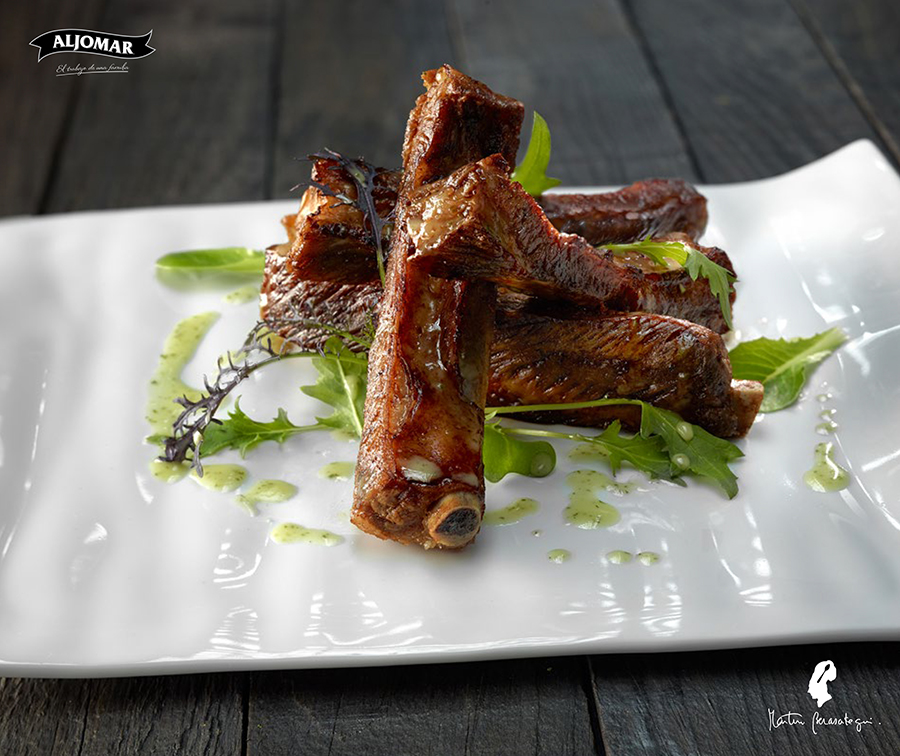 Ingredients
1 kg ALJOMAR Iberico pork rib
2 litres water
1 whole onion (approx. 120 g)
1 whole carrot (approx. 100 g)
1 small leek (approx. 50 g)
1 celery stalk (35 g)
1

ALJOMAR ham shoulder

bone
Dash of salt
1 T olive oil
30 g soy sauce
For the parsley and lemon:
3 T EVOO
2 garlic cloves, roasted (10 g)
20 g lemon juice
1 T cider vinegar
Chopped parsley
Preparación
Place onion, carrot, leek, celery stalk and ham bone in a large pot. Add 2 litres of water and a pinch of salt; bring to a boil. When the liquid is boiling, add the ALJOMAR Iberico pork ribs. When the liquid returns to a boil, cook for 50 minutes. Use a foam spoon to remove any bits that rise to the surface. After the time has elapsed, remove the ALJOMAR Iberico pork ribs from the broth, cool in the refrigerator and place on a baking tray.
Preheat oven to 210ºC (grill setting). Mix together the soy sauce and olive oil and brush onto the ribs.
For the parsley and lemon sauce:
Mix the parsley with olive oil. Add the roasted garlic, lemon juice and vinegar. Blend well in blender.
Plating and presentation
Bake in oven for 20 minutes until toasted and browned. Turn every 5 minutes, basting so that the ribs remain juicy. Remove from the oven, season with parsley sauce and serve.
Tip
Make sure to look for quality meat. You can easily identify a good meat by its pink colour, firmness and freshness. The proper colour and smell are the result of good feeding with abundant aromatic herbs and natural fodder, including nuts and berries, which is very noticeable
Share this content
Add a comment